Xtend IVR is a Rapid Application Development toolkit for implementing Interactive Voice Response Systems (IVR), Conferencing System and other telephony applications easily with reduced cost, time and complexity. The toolkit is built upon the ease of use and flexibility while incorporating powerful features like support for the .Net Framework, scalable architecture, speech recognition, background play, real-time mixing, voice streaming capability, etc. Every software release is extensively load tested with each port individually handling over 10,000 calls to ensure that the runtime is stable and performs well even under the most demanding conditions.

Xtend IVR has extensive support for telephony voice cards like PIKA, Ocha, Synway, Donjin, SIP, NMS, Diva Server, Ai-Logix, H.323, Dialogic, TAPI, Sangoma etc. Few of the applicable areas include telebanking, stock enquiry, railway and flight information, televoting, astrology, courier tracking, hotel booking, physician consultation, election campaign, result announcement etc.
Xtend IVR - Working Demo
This video explains how to use the Developer Edition after the installation of the Software. The easy-to-learn scripting language, integrated debugging environment, variable view, single step mode, online help, syntax colouring editor and simulated on-screen phone enable you to quickly develop, test and demo IVR applications.
Connection and Working Scenario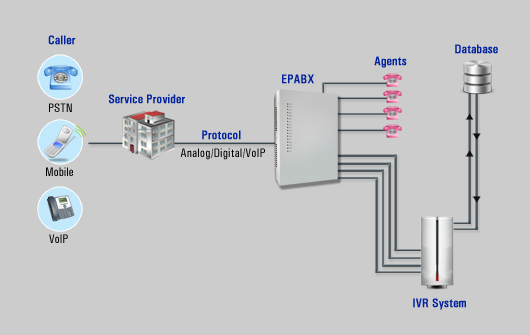 Disclaimer: All other trademarks are the property of their respective owners.